We are having services while taking proper precautions.
Find out more about those precautions on our blog post about reopening.
A WORLDWIDE CHURCH FAMILY THAT CARES
The Seventh-day Adventist Church is a mainstream Protestant church with approximately 19 million members worldwide, including more than one million members in North America, alone! The Adventist Church operates 173 hospitals and sanitariums and more than 7,500 schools around the world. The Adventist Development and Relief Agency (ADRA) works within communities in more than 130 countries to provide community development and disaster relief. Learn more about us by clicking the button below!
---
Pursue Peace: Conflict Resolution
Presented by Laurie Snyman
God wants us to be peacemakers. It was his last message before the cross that he wanted us to have unity. Yet today, we've never seen our world or church more divided. Christian should be skillful at resolving issues and reconciliation because of all the advice of the Bible gives us. because we are created with such individual opinions and perceptions, it is a skill we need to practice each day, maybe even every hour around other people. Come learn together and increase your ability to create healthy relationships.
  Click here to find out more.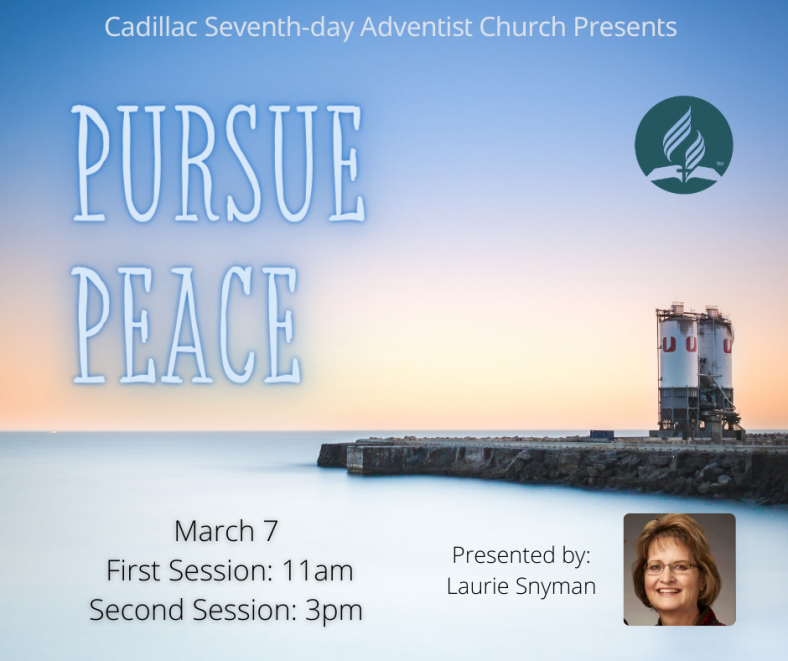 ---
Stay in the Loop
with email updates.
---
Plan Your Visit:
We would love to have you join us!