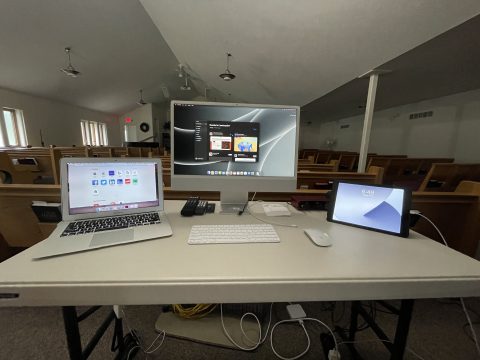 Our church has gone through many stages of reconstruction. The late 1940s and early 1950s were characterized by the construction of the then-new church building and establishing a church school. The 1960s and 1970s focused a lot on the church school, for example the construction of a new school building, and eventually, the conversion of the parsonage into a community service building. The 1980s and 1990s were focused on church expansion, and the planting of a new church in Cadillac (that church is now known as the 13th Street Seventh-day Adventist Church). 
What we find, is that the mid-1990s is also when we last did any significant upgrades to the audio-visual systems of the church. Church membership stood around 300 members then, and the church would go through a major renovation process in that decade. For some of our readers, this may seem like yesterday, but in technology…that is almost prehistoric.
 1990s technology was flashy, bright, and new. Windows 95 and desktop computers, with thick, chunky cathode ray tube screens were all the rage. Dot-matrix printers, borrowing some technology from typewriters and word processors, were in the spotlight too. Music labels were starting to release songs on a silly gadget called a compact disc. While that may seem like yesterday, that was nearly thirty years ago! Audio technology can sometimes last a lifetime, but for visual technology to last that long is nearly a miracle itself. Craig Soule, when I discussed the system with him some time ago quipped, "I remember wiring that system…and that was a long time ago!"
In September of 2019, the new leadership in Communications made the leap to streaming. They started with a cell phone camera and worked up to another type of camera called a Mevo. But when the COVID-19 pandemic appeared on our doorstep, the church went offline, both literally and figuratively. When we returned to church in June 2020 though, we knew we had outgrown our system. It was then that the joint media and communications department, affectionately known as "CadComm", started a year-long odyssey of research. Over twenty-five quotes and proposals were gotten, reviewed, and adjusted, and at last month's board meeting, a decision was made. Under the leadership of new Media Department Leader Jill Shaffer, new cameras, a computer, and various accessories were to be purchased, all a worthwhile investment for the future. 
Just as the 1990s was the era of the "dot-com boom", we are in the era of streaming and social media. These investments will assist us in evangelism but will also provide a stable, worthwhile service for our members. If you would like to volunteer to help run this new equipment, come see the team at the back of the church, or to see how our new technology looks to the consumer, visit our Facebook and YouTube pages.  Don't forget to share what you find there with a friend!
Samuel Girven
Cadillac Update