It's inevitable: every week, a new sermon is preached. Every week, a new idea is presented. And every week, much of the message is forgotten about. The week (unfortunately) passes by us, and we lose what we seemed to absorb during the weekly excursion into corporate worship.

There's a noticeable difference when youth "take the pulpit", though. People listen, and they grasp the message with amazing intentionality. People remember the message, simply because it came from the youth. That's powerful. But the congregation is not the only group effected by this...the youth that preach are affected too. "I see it as an opportunity to grow personally, as well as in my walk with God." says Andrew Horvath, speaker on October 2nd and Vice President of MI Youth Retreat.

Preaching, for most people, is out of their comfort zone. The youth have decided to be proactive about that. While it may be out of their comfort zone at first, they are not willing for this to hold them back. "I do not naturally love to get up in front of lots of people and speak, so this is a wonderful opportunity for me to overcome this fear," Horvath emphasized. Peyton Shaffer, another youth that has spoken in the past, and is also scheduled to speak on November 16, agrees. "This isn't my first sermon, so even though I'm still not used to it, I'm less nervous than I was the first time I preached."

Both speakers say that they are motivated by God, and not themselves. They give all credit to Him. "I wish I could say I am motivated by my own desire to preach, but I can't. My motivation comes primarily from God, He is giving me the thoughts and words I need and keeping me motivated to do this." Shaffer explained. Prayer has also been an important part of the equation for both. "Prayer has been the most important part of this entire experience."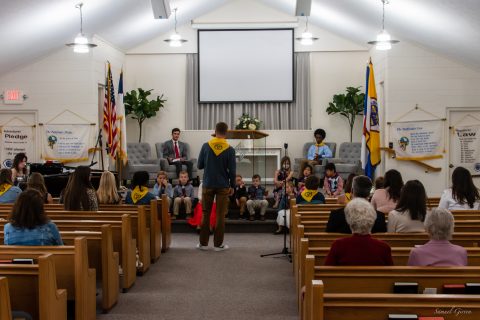 Neither one of them skimps on the preparation either. In fact, a remarkable amount of work goes into each sermon. "When I was asked to give the sermon, I was given a specific topic. Then, I prayed, and I researched to see what the Bible had to say about the topic." Hor- vath detailed. "My next step was to start writing out ideas from those verses and then find a way to organize that into something that I could present. Later, I had the privilege to spend some time going over them with Pastor Ariel. He helped me to tie all my points together into one theme, as well as eliminate what did not fit." Both Horvath and Shaffer emphasized the importance of prayer and communication with God throughout the entire process.
The spiritual impacts are unique to each person, and they are positive ones. "On a spiritual level, this entire experience has really taught me to depend totally on Christ. I realize my weakness and see my need for His help and guidance." Horvath says. For Shaffer, it helps him affirm his beliefs. "Speaking to such a large group of people definitely makes me affirm that I believe what I am saying and know why I believe it." Stay tuned for more information on when these youth will be speaking again.